PIV Simulator
System Requirements and Instructions
Contact Tier 2 Support if you have problems. Email Support
Quick links: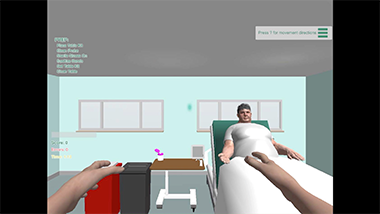 This simulator is not intended to imitate an actual insertion; rather, its intent is to familiarize the beginner with the basic steps needed for a safe IV placement and to verify understanding of those steps. Please note that this procedure may vary or be in a different order from your hospital's procedures.

In order for the simulator to run properly, you need to have a PICC Excellence account and you need to be sure your computer has enough memory. Your internet connection is a concern for download purposes only. The simulator is a fairly good-sized program which may take a while to download depending on your internet speed. Slow or fast, it will eventually download.

We strongly recommend you enter the PRACTICE ROOM first! Have fun!

Please send an email if you have any questions or problems with the simulator.

Sincerely,
George Moureau
IT Director
PICC Excellence, Inc.
706 377 3360

GETTING STARTED
CREATE AN ACCOUNT
If you don't already PICC Excellence account, go to our website, www.piccexcellence.com, click the "login/create account" link at the top, click the "create account" link, and create a Private account or Site License account if your employer has a site license agreement with PICC Excellence. Add the simulator to your account either through purchase, site license agreement or taking advantage of our free offers. Access the simulator through your Account Information page under PICC Excellence Simulators.Completion of the simulation will be recorded in your master class record showing a completion of the simulator competency and a certificate will be available to print, listed under Completed Classes.
TECHNICAL REQUIREMENTS
INTERNET CONNECTION
Your internet connection should be fairly fast, otherwise the download for the simulator sessions will be very slow. Fast or slow, the simulator will eventually download to your computer. Once the download is complete, your internet connection is no longer a concern.
BROWSERS AND JAVA SCRIPT
Next, the most consistent browser that works with Unity's WebGL technology (the simulator engine) is Mozilla Firefox or Microsoft's Edge (Windows 10). Internet Explorer may not work well with the simulator, depending on your version of Explorer. For Mac users, Firefox and Safari support Unity WebGL (Firefox works better than Safari). Finally, you must have JavaScript enabled for your browser.
INSTALLED MEMORY
The simulator will work best if your computer has at least 8GB (8 Gigabytes) of internal RAM. This is easy to find out. Simply click on Windows File Explorer (manila folder at the bottom of your computer screen), find the "computer" icon or "This PC" and right click, then click on "properties". You will find "Installed Memory" listed on the subsequent screen. 8GB is recommended although the simulator has been tested on as little as 4GB using Windows 10 and Microsoft Edge with no problems.
COMPLETION AND PRINTING CERTIFICATE
When you finish the simulation, your class record is updated with a status of "passed" and the day's date. You'll need to switch to the browser window that has your account information. You can either close the simulator window or tab or simply click on the window or tab that contains your account information. This is the screen where you are taken after logging in. Toward the bottom of this screen, you'll find a section titled "COMPLETED CLASSES" and in this list you'll find the "Peripheral IV Simulator" class. To the right, you'll find the link "Print Certificate". You'll be required to fill out an evaluation form first, then you may print your certificate.
INSIDE THE SIMULATOR
The simulator is based on the first person, is guided by text boxes of instructions, labels on action points in the room, keyboard actions and a crosshair that behaves like a mouse. Let's take a look at each.
First Person
The first person, in computer or game console terms, is your hands. What you do with your hands controls the events in the simulator, with the use your mouse and keyboard.
The Crosshair
You'll notice a small crosshair centered on your screen. That is your control point which will change color to RED when you hover over an action item. Any action performed needs to be initiated with this crosshair hovering over that item. You will move this crosshair around the room using your keyboard and your mouse. Please note! It's the crosshair that has to find action points, not your hands. Sometimes you can't see the crosshair and just have to move your hands or the item you're holding around until an ACTION LABEL appears. During the Insertion, you'll find that the action spot is a small black dot on the patient's arm. That's where you need to position the item you're holding to activate the action.
Error Messages, they're really hints...
When you do something out of the order established by the designers of the simulator, a red message will appear at the center of your screen. These are actually hints or Red Letter Hints about what you should have done before you did the thing that popped this little red message on your screen.
Keyboard Movement Controls
Moving around in the room is done by either the up-down-left-right arrows on your keyboard or the letters W-A-S-D. Press and hold them down to go faster in the direction you want.
Action Item Labels
There are items in the room that will show up with a name for that item as you hover over it with the crosshair. This means you are probably close enough to take an action. Sometimes you have to move closer for the action to work. Other times you have to wait for the dialogue to finish before actions happens. Just play with it until you get results.


Text Boxes with Instructions
Sometimes a box with a numbered list of actions will appear on your screen. Use the numbers on your keyboard to select the correct action by its number. These are not in numeric order, so you'll have to know which is the right step then select that number on your keyboard.

Don't forget to remove the tourniquet! I always forget this step.

back to top